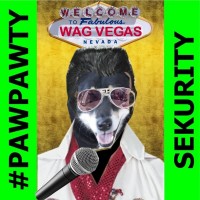 this month's #pawpawty theme is Viva Wag Vegas in honor of what would have been Elvis's 75th year on earth. The charity is The International Fund for Animal Welfare (IFAW) to benefit the animals of Haiti.
to learn all about what iz #pawpawty, check out the pawpawty website
JANUARY ROLL CALL
PAY OPTIONAL COVER CHARGE
TICKETS, FINES and BAIL HERE

| | |
| --- | --- |
| (in the US) | (and in the UK) |
SHIFT ASSIGNMENTS
all times are Eastern Standard Time.
officers, please convert accordingly so you are not late for your shift.
Saturday, January 23, 2010
Start
End
Duty Officer
2:00 PM
4:00 PM
captain snickers (@Snick_the_Dog)
4:00 PM
6:00 PM
ninja strike force leader mizCleo (@mizCleo)
6:00 PM
8:00 PM
sergeant shawnee (@ShawneeShep)
8:00 PM
10:00 PM
cadet smokey (@SmokeyPoodle)
10:00 PM
11:59 PM
officer brutus (@brutusthedane)
Sunday, January 24, 2010
Start
End
Duty Officer
12:00 AM
2:00 AM
cadet mace (@CheckPointMace)
2:00 AM
4:00 AM
officer morris (@morriscat)
4:00 AM
6:00 AM
NEEDED
6:00 AM
8:00 AM
junior officer buddy (@buddybentley)
8:00 AM
10:00 AM
NEEDED
10:00 AM
12:00 PM
ninja strike force leader mizCleo (@mizCleo)
12:00 PM
2:00 PM
officer brutus (@brutusthedane)
cadet smokey (@SmokeyPoodle)